Where
AI

and Industrial Diagrams Meet
11,109 hours saved using DataSeer in 2023 to date.
Analyze and extract the data you need from
Diagrams & Datasheets
DataSeer provides automated visualization software that digitizes unstructured data trapped in 2D images and creates a digital twin database with API access.
Integrating industrial engineering with Machine Learning and Computer Vision, DataSeer facilitates rapid project turnaround, automates change management tracking, and reduces risks associated with the integration of legacy and greenfield processes.
Extract information that can be used across multiple use cases, including Asset Integrity Management, Plant Cybersecurity, Capital Projects Engineering & Estimating, Process Simulations, Plant Operations and Maintenance.
Some use cases:
Rapidly estimate cost for planning, bidding, fabrication & construction
Extract tabular data such as equipment lists, bill of materials and datasheets
Convert legacy diagram images to digitized CAD drawing formats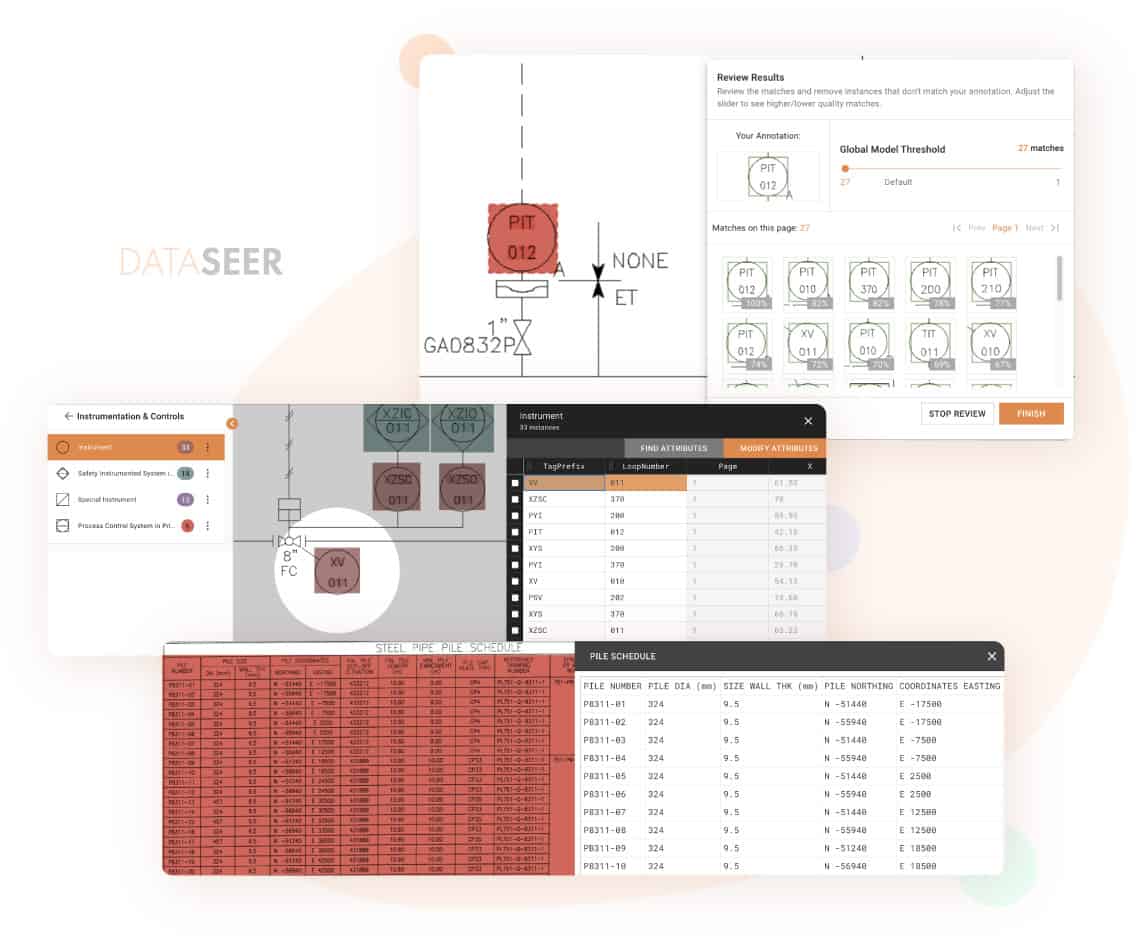 Transforming the use of Industrial Drawings
We help teams do
their
best work.
Leverage an AI-based asset data extraction tool like DataSeer to get  unstructured data trapped in disparate industrial 2D flat images out in a high-fidelity digitized format.
Drive revenue with faster project turnaround & onboarding
Increase ROI by up to 10x
Minimize cost overruns associated with change management
Reduce costs from laborious error-prone manual efforts
Increase quality control with always-on, accurate database of process & asset data
Decrease liability by minimizing risk from errors & omissions
Off-the-shelf application, no setup or configuration
User-centric design that's easy & intuitive to use
Use our default P&ID symbol library or build your own!

"It's refreshing to see a company solving the mind-numbing work of manual diagram searches, translation and data extraction. I wish DataSeer was available to me as a young engineer." - Process Engineering Manager
"DataSeer will assist in our daily works, substantially. We often have to manually take-off needed information, which is an incredibly time consuming process." - Program Manager
"We recently had a client request a list of all line numbers from a large collection of P&IDs. DataSeer would have saved us countless hours. I am looking forward to our next project!" - Intermediate Mechanical Engineer
"We believe in making our job faster and easier through technology. DataSeer is a great example of this in practice." - Chief Process Engineer
"Very, very powerful." -BIM Manager
"From a process engineering perspective, this is absolutely amazing. DataSeer will solve significant challenges in our current workflows." - Project Manager
"We looked at other tools but nothing came close to DataSeer's capabilities." - Engineer II
Challenge
An international industrial software company wanted to accelerate the manual extraction of asset models from PDF drawings and fed & integrated into their Operator Training Simulation (OTS) software. This data model setup is a prerequisite to software use and throttles the onboarding of more customers & users.
Solution
Results